2013 Asian Network of Documentary (AND) Fund
LIST
Zen and Bones (aka. Zen Priest Henry's Red Shoes)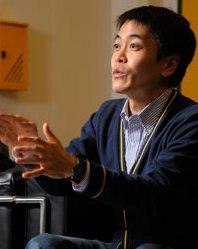 | | |
| --- | --- |
| Category | DongSeo Asia Fund |
| Project | Zen and Bones (aka. Zen Priest Henry's Red Shoes) |
| Director | NAKAMURA Takayuki |
| Country | Japan |
| Director's Profile | Born in 1975, NAKAMURA Takayuki is of the last generation who worked under the Japanese studio system (Shochiku). From 1999 to 2001 he studied at the Beijing Film Academy majoring in film performing arts and documentary theory. Apart from his extensive work in TV documentary and corporate promotion, his theatrical debut film was Yokohama Mary (2005). It was released in over 50 cinemas nationwide and grossed over 1 million dollars. Zen Priest Henry's Red Shoes will be his second feature documentary. |
Synopsis

At the age of 93, Zen priest Henry Mittwer should be living his remaining days in peace in his Kyoto temple residence. But his greatest passion and dream is to make a film. For years, he has been pitching his project Red Shoes to Kyoto movie studios and financiers. 
Born in 1918 in Yokohama to an American father who ran film studio United Artists' Far East Office and a former geisha, Henry grew up in Japan. At the age of 22, he traveled to America by ship to search for his father. Soon World War II broke out and he was detained in internment camps for the Japanese. In 1961, he finally returned to Japan and became a Zen Buddhist priest in Kyoto. This is the story of his extraordinary life and filmmaker Nakamura's devotion to sealing a promise with him.
Director's Note

Just when filmmaking seemed to be a dead-end for me, I met Henry Mittwer. A Zen priest of a seasoned age, a total amateur in the field, and yet for over a decade he had been seriously campaigning to make a film. The purity of his drive and passion to "make that film happen" resonated with my own situation. I was inspired to challenge myself and my own commitment. I started filming him, without a penny to the project. Eight months later, he was hospitalized and was traversing the brink of his life's end. He murmured to me, "Please film my funeral." There was no turning back. "What does it mean to film a person's life?" ? the query once again faces me after my debut film Yokohama Mary.
Festivals

2015 Busan International Film Festival - Wide Angle_Documentary Competition
2017 Taoyuan Film Festival
Still Cut
LIST